YEAR 5 CURRICULUM
Autumn 2 - Groovy Greeks
What was life like through the timeline of Ancient Greece? How different were the roles of women, men and children? As Historians we will be researching the life and legacies of a young Greek Soldier. The children will discover how he lived (housing, education, food); what he believed in (gods, legends, democracy) and how he fought (Athenian/Spartan soldiers).
As readers we will look at Greek myths and legends, including Theseus and the Minotaur and the Twelve Labours or Heracles. For our non-fiction unit, we will be researching similarities and differences between Athens and Sparta which we will then use to write an explanation of life in Ancient Greece. We will have enrichment activities from visitors to support our learning.
Autumn 1 - Out of This World
Spring 1 - Movement and Motion
We will be looking in depth at the book 'The Invention of Hugo Cabret' by Brian Selznick. We will start by building up our 'background knowledge' of the text by working in research teams to find out more about the themes of the book and look at how the author has used pictures to tell parts of the story alongside the narrative. Our fictional writing will focus on using description to tell a reader more about a story, develop tension through our use of adverbs and adjectives and convey character through 'show, don't tell'. We will celebrate our learning by visiting the Duke of York's Cinema to enjoy a private screening of 'Hugo'.
Our science topic of Forces will be linked to our DT topic of Moving Vehicles. We will explore friction, gravity and the opposing forces involving push and pull.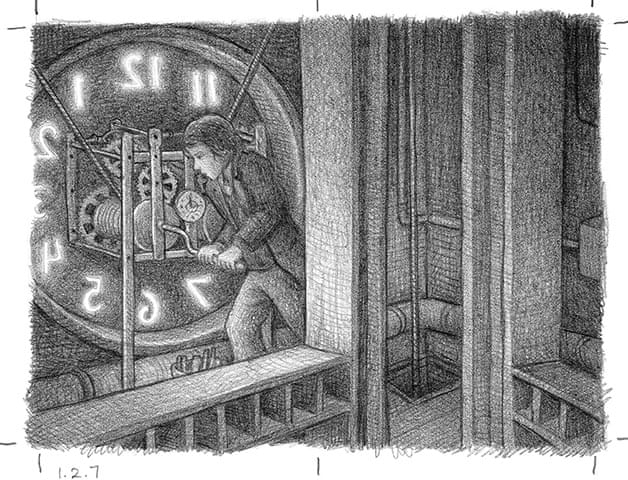 Spring 2 and Summer 1 - WW2
We will be discovering how the people of Brighton and Hove were affected by the Second World War by exploring concepts such as: rationing, bombing, evacuations and adjustments to home life. We will visit our very own Air raid shelters and have talks from local evacuees and build modernised Anderson shelters in DT.
As writers we will be looking at the book 'Friend or Foe' by Michael Murporgo. This book focuses on evacuation. We will be letter writing, creating a radio broadcast, looking a persuasive writing and debating morals within the story.
After Easter our book focus is 'Number the Stars' by Lois Lowry. This book looks at the war in Denmark from the perspective of a young Danish girl and her Jewish friend. We will be writing, newspaper reports, diary entries, a cine broadcast and a narrative story resistance story.
During the Brighton Festival in May, Year 5 will display examples of their writing and artwork at Take Shelter for members of the public to enjoy.
Summer 2 - The Amazon
We will be basing our English around an exciting adventure story – The Explorer by Katherine Rundell. As readers, we will use this as a class guided reading text to provoke rich discussions and develop our inference skills to consider the storyline, setting, character relations and themes. In Geography, we will discuss who uses the rainforest, what for and debate the changing landscape and its effects on the ecosystem.
As Artists, we will take the rainforest as our inspiration and will be practising mark-making, creating watercolours, using collage and exploring textile techniques before creating our own final piece.